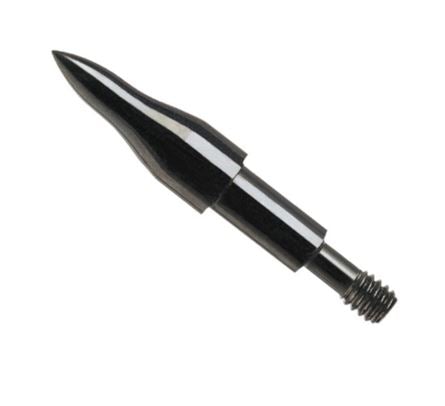 COMBO POINTS - Combo tips combine elements of both the bullet and field tips to create a tip with a gentle radius broadening into a distinct shoulder near the base. These tips are well-liked by 3D and foam target shooters as they are easily extracted.
BULLET POINTS - A classic style of tip often used for practising archery. The tip is modelled after a traditional bullet shape. Bullet tips hold up well against repetitive target impacts. Their curved profile allows for easy removal from targets.
FIELD TIPS - One of the most common types of tips used for small game and target practice, these tips flare into a wider shoulder near their base. This prevents arrows from getting stuck in the target. They offer more precision and penetration than bullet-type points.
COMBO BULGE POINT - These arrow tips are wider in the center than the arrow shaft. They hit hard and leave a good-sized hole. However, due to their design, they can be difficult to remove from some targets.
**SOLD IN SINGLES**
Availability:
215 In Stock